Dog Collar vs. Harness – Which is Better for Your Dog?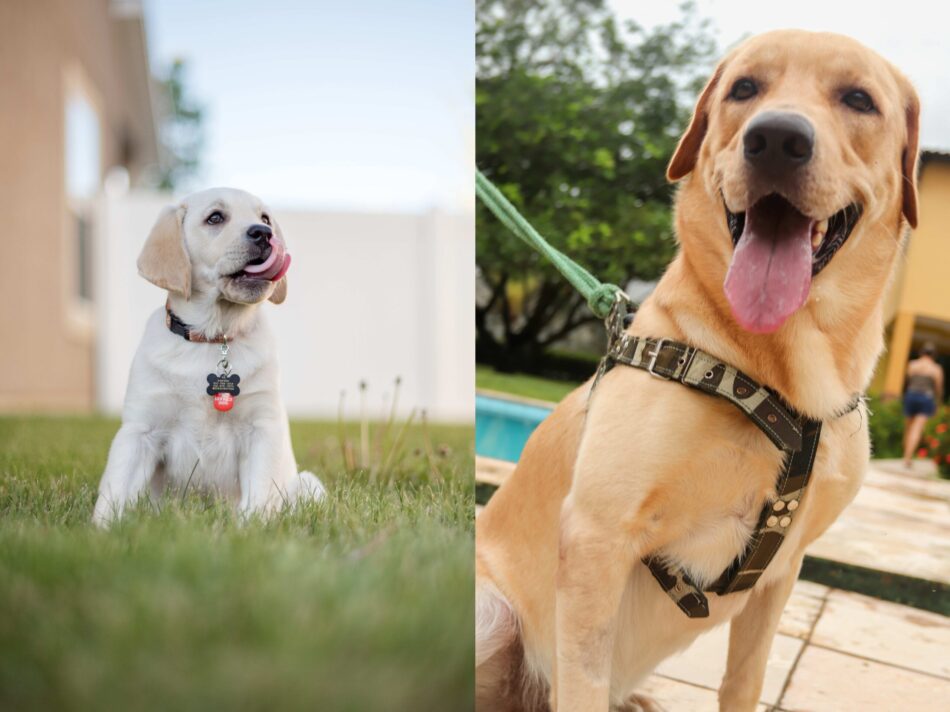 It can be tricky to decide whether or not your dog should wear a collar or a harness for walks. A lot of it depends on your dog himself, from the breed to his age and activity level. No matter what type of breed you have, one thing's for sure, they all need to go out on walks! The main two types of leash attachments that you can use for your dog are harnesses or collars.
Whether you just got a new dog and aren't sure which to use or you are looking to switch things up, it's important to know the pros and cons for both dog harnesses and collars before making a decision.
Collars
Pros
Dog collars are the best when it comes to controlling aggressive dogs, puppies or dogs who are in training. It gives confidence to the owners where they can let their dog walk without any fear. It comes with many direct benefits while providing better control to the handler. Dog training is one of the most important reasons for buying a dog training collar. It is one of the first dog training tools that an owner would need. It helps your dog to successfully overcome obstacles. It also helps to guide your dog and secure his attention if it has a short attention span.
Your dog may get a bit rowdy during the walking session. It's the dog collar that can correct its behavior when it is misbehaving. Dogs can go on jumping fences, playing in woods, or getting into mischief; so, you should consider durable dog collars with breakaway fasteners.
A dog collar is more convenient than a harness: The main benefit of collars
is that they can be left on at all times as opposed to a harness, which should only be worn during walks and it's much easier to snap a collar on and off than a harness.
Another great benefit of wearing collars comes with the metal ring where you can attach your pet's ID tag
or name plates with your address, your phone number, veterinarian office phone number or the tag of the dog registration organization where your dog is registered for identification in case, he or she gets lost.
Are you a fashionista or do you love to express individuality? You can even use a bow tie or bandana/scarf as an attachment for the collar.
Cons
What can go wrong when you lead a dog by the neck? Quite a lot, it turns out.
The safety of your dog's neck plays a vital role here. If dogs constantly pull against their collar, they can injure themselves or reduce the airflow they are getting. Some smaller breeds, like miniature dachshund or poodle, are prone to collapsing tracheas, and a rough tug on the collar can quickly turn into an emergency situation.
Other dogs' necks are as thick as their heads, e.g., pugs and whippets, so slipping out of a collar is effortless. Even if you have a tough mutt or working dog, repeated pulling on the neck can lead to thyroid damage or spinal injuries over time. Please avoid using collars to walk dogs with medical issues such as glaucoma, neck injuries, or spinal malformations.
Collars should also not be used on toy breeds and brachycephalic breeds, such as Chihuahuas, Chinese Crested, Italian Greyhound, Maltese, Toy Poodle, Yorkshire Terrier, Bulldogs, French Bulldogs, Boston Terriers, Pugs and Boxers.
Harnesses
Pros
The main benefit for using a dog harness instead of a dog collar is the control you have over overly excited dogs, as you have more control over them. If it comes to safety and security harnesses are generally better at preventing accidents because they fasten more securely around your dog's body and are simply the most secure, and most comfortable way to hook your dog up to his leash. It covers your dog's chest, shoulders, and upper back, which disperses pressure over a larger surface area whereas collars give you better control over your dog. While dogs can easily slip out of their collars and potentially run into traffic or another person's yard, harnesses offer much more security and safety.
A good harness will reduce pulling, increase your control over your pup, and decrease stress on his neck and joints. Bonus points: because it secures closer to the dog's center of gravity, a harness gets tangled in the leash less and helps prevent jumping.
Also here, for the individualists among us, there are different kinds of harnesses, starting from cool, cute or practical, such as bags where you can put some treats or eco-friendly waste bags.
When it comes to specific breeds or diseases, a harness has a better function for your dog:
Brachycephalic breed

: These breed dogs typically have flatter faces, "shortened head" and refers to the short nose and flat face of

dogs like Pugs, Shih Tzus, Chihuahuas, Chow Chows, Pekingese, French Bulldogs or Bulldogs. Respiratory issues may be better managed with a harness.
Tracheal collapse: This is a medical condition where the trachea will fold in on itself causing trouble breathing and a cough. Please avoid using a collar because it applies further pressure and can even worsen the condition.
Risk factors for spinal problems: A condition called intervertebral disc disease (IVDD) makes long-bodied breeds such as dachshunds very prone to slipped disks. By using a harness, you can take pressure off the neck and back and help prevent further damage.
Orthopedic disease

: Dogs with orthopedic disease can have a hard time getting up to walk so a harness can help you get them up and move around more easily.
Cons
Harnesses are just less convenient than collars for humans. A collar can just slip on, but harnesses take more time to fasten.
Harnesses can be uncomfortable: Harnesses are bulkier than collars, so they can be more uncomfortable for your dog. Some dogs really don't like wearing harnesses, so it can take some time for them to get used to it.
Harnesses may not have a place for carrying an ID tag. It's best to get a harness with a ring for a tag-or use both a collar with a tag and a harness when out walking.
If your dog wears weather protection or due to some illness needs to wear clothes, a harness might be a bit more of a disadvantage than a collar. The clothes might cover the harness ring(s), so that you're unable to put a leash on. Alternatively, you can attach the harness over the clothes but make sure -in general- it's neither too tight nor too loose.
Summarizing
So, collar or harness – which one is now the better option for your dog? There is no general answer to this question as it always depends on the breed and health of your pooch and the use of the item. However please, always keep in mind:
Collars are less restrictive on movement, which is good for working dogs who are running around all day. Collars are also better for dogs that don't pull and can calmly walk by your side.

Harnesses are better for overly excited dogs as you have more control over them.

Smaller dogs and brachycephalic breeds should avoid wearing a collar.

It is absolutely advisable to get your puppy used to both, collar and harness.

If you want to transition an older dog or even a pup from collar to harness, be patient – the adjustment phase may take some time. Bring some treats along on your first few harness walks to distract your dog from that unfamiliar feeling, as well as associate the change with positive rewards.

It also depends on the use of the item. If you want to have a walk with your buddy or take a ride with him in your car (to fasten the seatbelt), it is recommendable to use a harness. If you just let him out in the backyard or take him to your friends' house, a collar is totally fine – same goes with dog kennels.
To sum up, harnesses are usually the best choice for walking dogs because they don't put pressure on the neck. But collars are generally more comfortable and have a place to hold an ID tag. At best, let your buddy wear both: If you can't attach a tag or name plate to the harness, use a collar for the ID tag and a harness for the leash.
This entry was posted in Dogs
---