Doga: is it possible to do yoga with your dog?
Long walks with your dog help you to relax and share an intimate moment with your pet and allow you to recharge your batteries. However, if the weather is grey, and a long, cold walk isn't appealing, we have a new activity for you! Fun and playful, Doga, a trendy, new discipline, will allow you to spend quality time with your dog and help you both disconnect from the world.
Photo by cottonbro from Pexels
Involving your pet in your yoga activities can help you develop your yoga practice but it can also be an excellent entertaining and fun way to bond with your pet.
What is Doga? Do you need specific materials?
You have probably already heard of Yoga. This relaxing activity allows the person to be refocused on themselves and their body. Practiced alone or in yoga studios, this activity is very popular nowadays and brings many benefits.
Combine the word yoga with the word dog and you get the word: Doga. This activity was born in the United States in the early 2000's and has spread quickly to all the big cities, particularly in Asia. Unfortunately, Doga is still very little known and there are no "official" places to practice this activity in groups.
It's not about just finding anything to engage with your dog. Doga is, above all, a shared moment between you and your pet where positions can be adapted to involve your dog and assist owner and pet bonding.
No specific equipment is required. You just need a Yoga mat and a comfortable outfit which allows easy movements. Doga can be practiced outside, but if the weather is grey, it's just as fun indoors! If trying it indoors, choose a specific room for your Doga sessions. The routine gives your pet confidence, he will quickly associate the Yoga mat and the room and will be happy to spend a moment of relaxation just with you.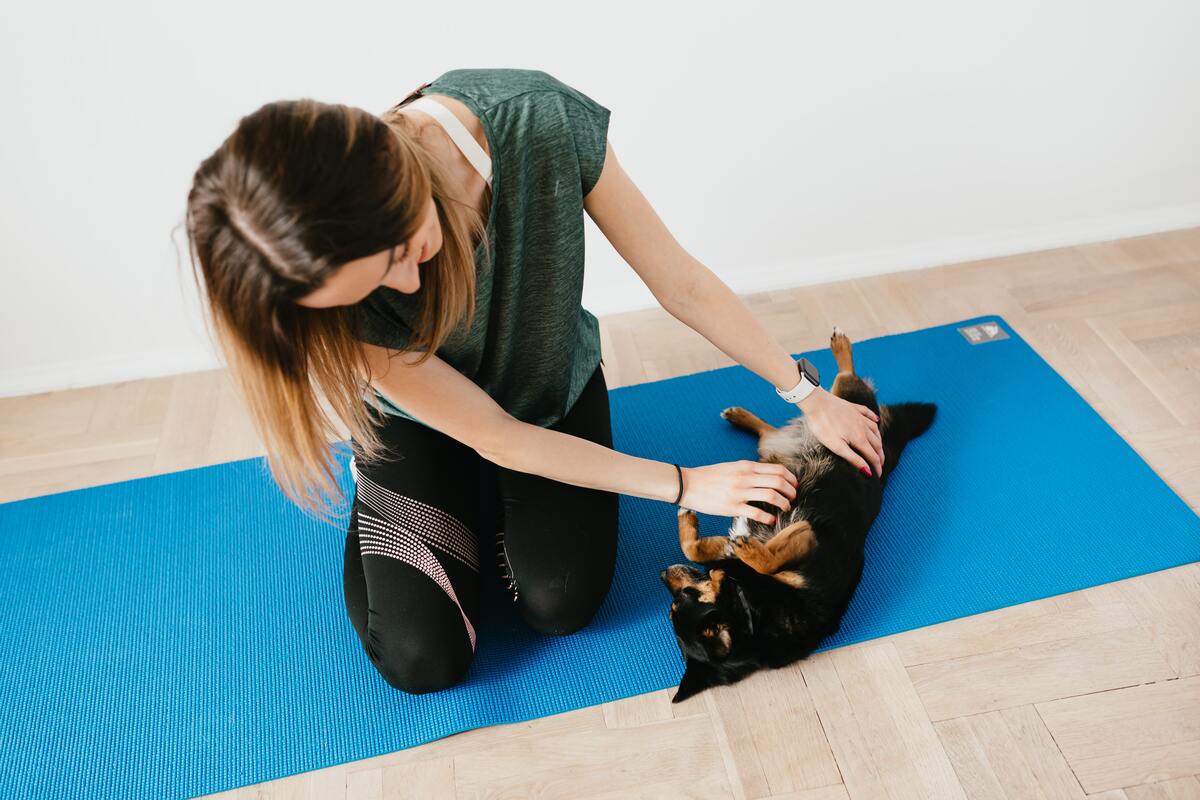 Photo by Karolina Grabowska from Pexels
The benefits of Doga
Doga largely incorporates the benefits of Yoga: relaxation, concentration, meditation, refocusing on yourself… However, this activity which is done jointly with your dog, brings new advantages.
Doga helps reduce stress
Your dog can often tell when you are stressed, picking up on particular behaviors which in turn affects their mood too. Doga is a specific moment when you take time to breathe, to relax, and your dog will destress with you.
There are no precise rules in Doga and for it to be relaxing for your dog, he or she must be able to remain free to move. If your dog wants to participate in the session and be active with you all the better, but if he prefers to stay by your side without moving, don't force him. The Yoga session will do you good and your dog will feel it, and relax with you.
Doga encourages master/dog communication
You must guide your dog throughout the session. It is necessary that you lead the pace in order to comfort your dog and give him a feeling of security. To make your dog feel reassured, work on your breathing and perform simple exercises. Repetition is the key to a successful session with your dog. He needs to soak up the movements. Show him how to do it, encourage him but as said previously never force him.
By adding this new activity to your schedule, it will be an opportunity for you to enjoy your dog's company while strengthening your complicity.
Thanks to all these benefits, this practice can help your dog sleep better. Just like human beings, your dog dreams. These dreams often relate to the moments experienced during the day. By sharing a calm activity without outside noise, your dog's nights will be less hectic.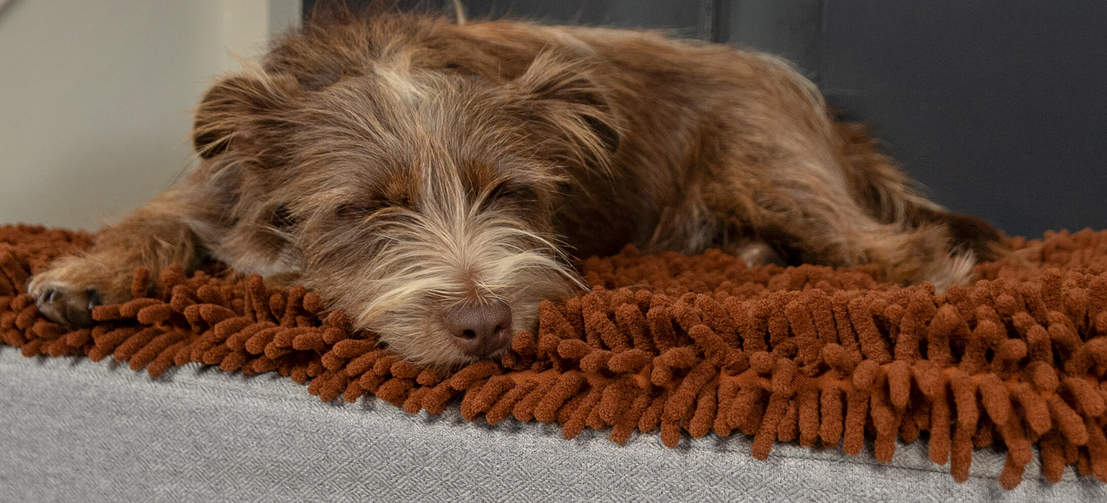 Is Doga suitable for all dogs?
Doga is made for all types of dogs: young, old, large, small, restless, calm. This activity should not be seen as a way to educate your dog but as a moment of sharing. Rewards shouldn't be necessary, as your dog will enjoy the moment with you.
Doga can be especially useful for slightly older dogs or dogs that have been injured. Stretching, if done right, and massages can have real positive impacts on your dog's body.
The objective of Doga is to have fun and have a good time. There are no rules and Doga should not be an activity to be taken seriously. This is why this practice is open to all types of dog: the dog is not forced into anything. In the worst case, you will end your session all alone, relaxed and ready to cuddle your pooch.
How to practice Doga?
There are several books that tell you how to practice yoga with your dog. The positions are detailed and the authors explain the benefits of such a practice:
You can also find many videos on the internet and YouTube to help you train with your dog.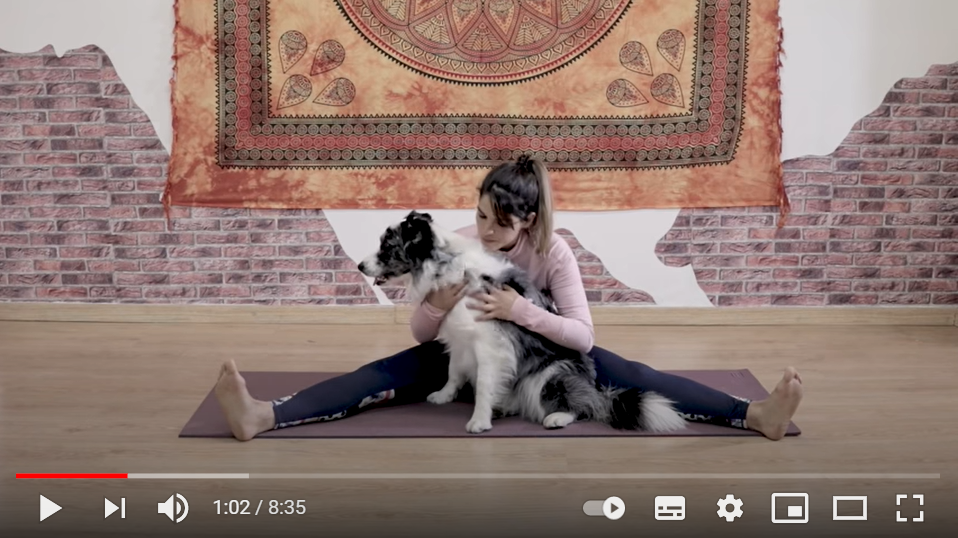 It is essential to spend time with your dog so that he can develop to his full potential. Just doing one yoga session won't really benefit your relationship with him. If you establish this activity as a routine not only for you but also for your pet, you may well be surprised at the benefits you can derive from it.
In addition to this fun activity, do not forget that the well-being of your dog depends on a balanced diet, daily walks and special attention to his needs.
This entry was posted in Dogs
---