Omlet Launch the Geo Bird Cage!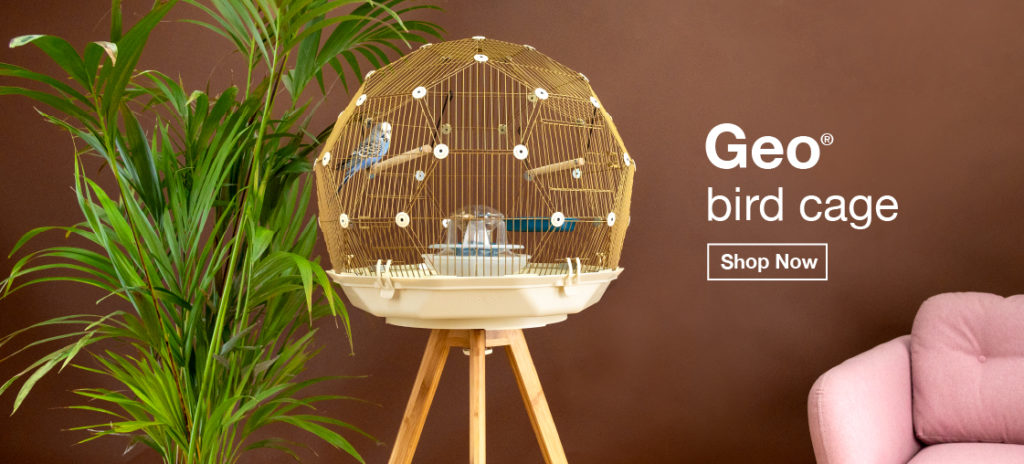 Finally there is a parakeet cage as good looking as the parakeets
The revolutionary NEW Geo Bird Cage from Omlet is a breathtaking, contemporary design that redefines what a pet bird's habitat can and should be. The geodesic shape defines a light and spacious habitat for your birds, creating the perfect environment to reveal their natural beauty. 
Rigorous design and testing have refined the Geo Bird Cage into a final form that has nothing superfluous but leaves nothing out. 
Simon Nicholls, Omlet's Head of Design said "The inspiration for the Geo Bird Cage came from a really amazing polymath called Buckminster Fuller, who pioneered geodesic domes in the 50's. Once we had the form we developed over 60 prototypes to ensure that every aspect was optimised for both the bird and the owner.  I couldn't be prouder of the finished product."  
A good example of the care and attention to detail throughout the Geo is the central feeder.  A delight for both owner and parakeet to use, it's also a remarkable piece of engineering. It intelligently catches any dropped husks and seeds in a hopper making this the cleanest bird cage of its kind. 
Pet birds are the 4th most popular pet in US households according to recent reports. Parakeets have long been a favourite with children, parents and grandparents as they enjoy human company and can be easily trained to land on your hand and can even learn to speak. With Omlet's latest innovation, keeping parakeets is easier, cleaner and better looking than ever before!
Available in a choice of teal and cream base colours, and black, white or gold mesh, the Geo Bird Cage can be further customised with or without the stand. Made from solid bamboo, the stand elevates your Geo Bird Cage and makes it easier for you to interact with your pets. No other small bird cage creates such a captivating centrepiece for your home.
The Constellation Geo Bird Cage Cover is typical of the kind of thoughtful touches pet owners have come to expect from Omlet. Decorated on the inside with a map of the stars, when it's placed over the Geo at night, the birds can try to spot Orion, Ursa Major and maybe even a shooting star before they nod off to sleep!
The Geo Bird Cage is available exclusively at Omlet, from $107!
This entry was posted in Parakeets
---