Rabbit Run Checklist for Spring

Spring might be the best time of year for rabbits! The sun is returning, the grass is fresh and luscious, and they can finally spend most of their time outdoors without you having to worry about rain storms and cold spells. 
That wonderful time of year is nearly here, so now is the perfect time to look over your pets current set up and make sure they have enough space to play on and that it's safe and stimulating enough to keep them entertained and relaxed. 
RUN
If you already have a run, go over it and make sure it's holding up and will keep your bunnies safe. You might need to replace some run clips, grease some locks or possibly change a panel.

If you're new to keeping rabbits or looking to extend, it's important to find a safe and spacious solution that suits your garden. The Omlet Outdoor Rabbit Run is a great alternative if you want to create a large, secure area where rabbits can spend their days. It can easily be connected to your Eglu Go Hutch, so that your rabbits can nip into their cosy home for a nap or a snack. The generous height of the run also allows you to go in and spend time with your pets.
The Zippi Runs are also a great solution for rabbit owners. These secure runs give your pets more exercise space, and they can be customised for your needs with two heights and optional roof panels and underfloor mesh. 
PLAYPEN
You will most likely be spending more time in the garden as the weather gets warmer, and if you have kids they will want to join in and play with the rabbits. The Zippi Playpens are super easy to move around the garden and allow you to spend quality time with your rabbits. 
ZIPPI TUNNELS
If you have a hutch and a run but are tired of having to carry your pets between the two, the Zippi Tunnel System might be the perfect solution for you. By connecting the tunnels to the different areas you allow the rabbits to move between their different habitats at their own pace. They can be locked at the end of the day to secure your pets in their hutch.

You can adjust your Zippi Tunnel System to fit your garden by adding connectors, corners, hay racks and lookout towers. It is also super easy to add extra tunnels at a later date if you want to make your pets' playground bigger!
COVERS
You can make sure your rabbits stay dry from those inevitable April showers by adding covers to the roof of your run. We have got plenty of different kinds of covers to suit your setup and protect your pets from the elements. The clear covers are perfect for early spring days as they let in light on the run even in rain, whereas the heavy duty versions will provide your pets with a shady spot in warmer weather.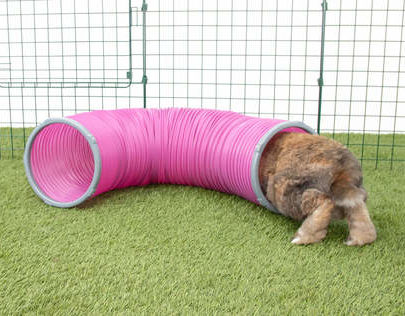 PLAY TUNNELS
Next step in creating the perfect run is to add some entertainment for your pets. Designed to mimic an underground rabbit warren in the wild, the Omlet Play Tunnels are the perfect accessory for your run. The rabbits will love chasing each other through the tunnels or stretching their long legs and jumping over their toys. 
CADDI
Another way of providing your rabbits with entertainment and stimulation is to make snack time slightly more challenging. The Caddi Treat Holder can easily be filled with nutritious veg or hay and then hung from the top of the run. It will slowly swing as the rabbits nibble away at their tasty greens, adding an interactive element that is also more hygienic than putting the food straight on the ground. 
---
If you want to make sure you have everything sorted for the outdoor months ahead you can print screen the list below and tick off all rabbit run essentials!
? Permanent, safe run
? Moveable runs and playpens
? Weather protection
? Tunnels
? Other toys
? Fun feeding solutions
This entry was posted in Rabbits
---