Health Benefits of Pumpkin for Dogs

You might be aware that pumpkin is really good for us humans, but did you know that your pets will also benefit from having some on a regular basis? Most dogs love the taste of this autumnal squash, and it can help with everything from getting rid of nasty worms to making the coat super glossy. 
It is important to mention that if you think that your dog is ill, you should take him or her to the vet before you try treating them at home. Pumpkin has amazing health benefits, but you will need to get your dog checked by a professional. If they're all clear, here are some reasons to spoil your pup with some pumpkin:
DIGESTIVE HEALTH
Pumpkin is an amazing source of fiber, as well as essential vitamins and minerals that your dog's health depend on. Fiber adds bulk to the dog's stool, which slows down digestion. Canned pumpkin is therefore great as a natural diarrhea remedy. 
You might find it a bit odd, but as well as helping when your dog has diarrhea, pumpkin can also be used for the exact opposite problem – to ease constipation. In this case the fiber in the pumpkin makes things in the intestines move along nicely, and the high water content helps lubricate the stool, making it easier to pass.
DEWORMER
Unlike pits and seeds from most fruits, which are normally a big no-no for all pets, raw pumpkin seeds do not contain cyanide, and can therefore be fed to your dog as a treat. Give them whole, or grind them up and mix with the dog's normal food. Not only do most dogs love the nutty taste of the seeds, but they can also work as an effective natural deworming agent, and have the ability to eliminate intestinal parasites. 
URINARY HEALTH
Apart from their deworming properties, pumpkin seeds also contain plenty of antioxidants and fatty acids that help promote a healthy urinary function. If your dog struggles from recurring and painful urinary tract infections, you can feed them pumpkin to ease symptoms and prevent future problems.
Aging dogs who struggle with incontinence, overactive bladder and kidney stones can also benefit from pumpkin seeds. 
OTHER GENERAL HEALTH BENEFITS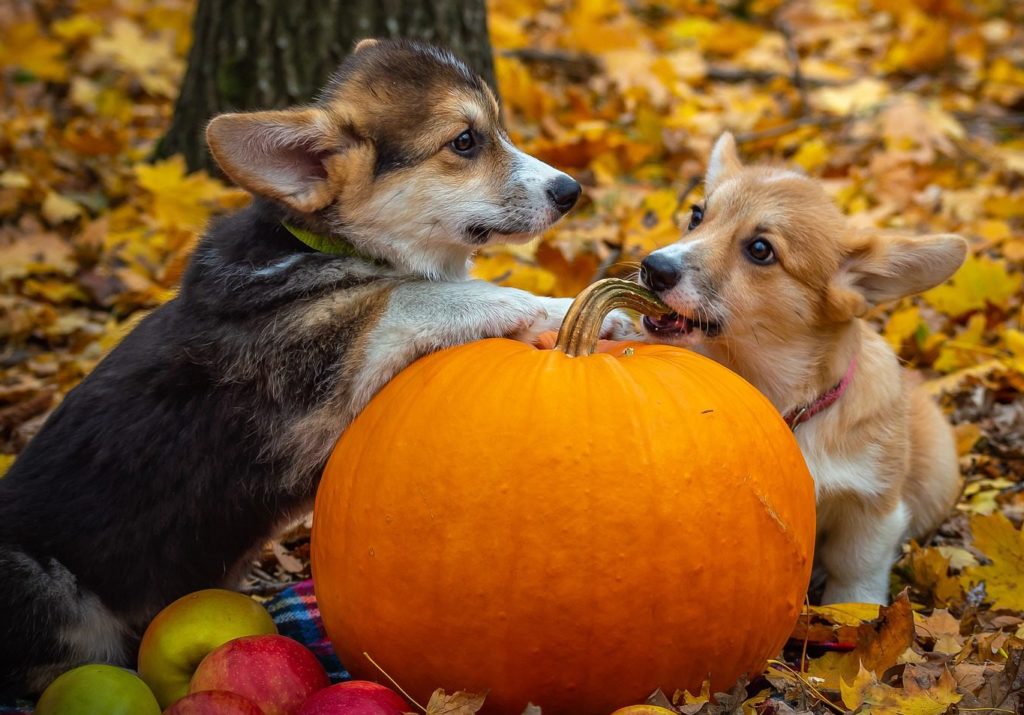 Canned pumpkin is loaded with vitamin A, C, E, potassium and iron, which all have great range of health benefits. Among other things, vitamin A helps with vision, and vitamin C boosts the immune system. Additionally, vitamin C protects joints, which is especially important as dogs get older. 
As if that wasn't enough, the healthy fats in pumpkin seeds have inflammatory properties, and gives your pup a healthy, shiny coat. 
While we see pumpkin as an autumnal treat, the fact is that you can feed your dog pumpkin all year around, as long as you get the right type. Buy plain, canned pumpkin (preferably organic), with no added salt, sugar or spices. If you want to give your dog pumpkin seeds, make sure you buy them unsalted. If they haven't yet been roasted and shelled, it's a good idea to do this before feeding them to your dog. 
To start with, give your dog 1-4 tablespoons of pureed pumpkin, mixed in with their normal food. Most dogs will love the taste. If you want to you can slowly increase the amount over approximately two weeks, depending on the size of your dog. Don't overdo it or increase the amount too quickly, as changes in food can lead to an upset stomach, and that's the last thing you want. 
This entry was posted in Dogs
---