How to Make a Cozy Den for Your Pet
Have you ever found your dog or cat curled up in a tiny, enclosed corner around the house when the weather gets cold? Perhaps under the bed, behind the sofa, or even in an empty box? When the temperatures drop outside, most of our pets' usual snoozing spots become very cold and exposure to chilly drafts become uncomfortable. But you can help combat the cold by giving your pet a comfortable and warm space for naps this winter. Read on to find out how you can create a snuggly den for your four-legged friend to call their own.
Find a cozy corner of your home
Do you know your pet's favorite place to sneak a snooze? As winter rolls in, keep an eye on your dog or cat's "go to" spot to curl up for naps. It will be the place where they feel most secure and can completely relax without keeping one eye open. Most likely it is in a warm room in your house where they will have some company, but not so much that they will be kept awake or interrupted frequently. This will be the ideal location to create the cozy den for your pet! And if you have young children in the house, you might want to consider a room that the little ones don't have access to.
Find the perfect bed
Once you have your pet's preferred location picked out, it's time to cover it with cozy! Sleeping on your bed or the sofa might be your dog or cat's usual spot for comfort, but unless they sneak under the covers, they will still be exposed to those pesky drafts! And never mind the fact your bed will be victim to muddy paw prints, too! Placing your pets' bed within something else to create a 'den' is a much better solution.
The Fido Nook Dog House and Maya Nook Cat House designed by Omlet offer your pet just that! Thoughtfully designed like a stylish piece of furniture, the Nook offers a sanctuary of security where your pet isn't just pampered, but protected as well. Place your pet's bed inside where it can be slightly raised off the ground, limiting the cool drafts and maximizing their comfort. The Nook is also available with curtains that can be attached to the front and back for added coziness and that secluded sleep retreat feeling! And to help ease anxiety for pets affected by loud noises that may come with the holiday seasons, this covered cozy den will be the perfect place for them to feel safe!
To complete your pet's new den, you need to carefully pick out the perfect comfy bed to complement their coziness! For dogs, choose the Topology Dog Bed to place in their cozy corner and watch their naps elevate to the next level! This memory foam mattress comes with a variety of customizable topper options and the best part, they are all machine washable! And for the cats who need a comfy corner to claim, add the Maya Donut Cat Bed to the Nook or any cozy spot to create the ultimate den. The luxurious cushioning of this premium faux fur cat bed will leave your cat feeling divinely delighted with every cat nap!
Add the finishing touches
A cozy pet den isn't complete without layers of warmth. For the dog or cat that likes to burrow in blankets or nest in a nap, adding soft, cuddly blankets to their den will make all the difference! The Luxury Faux Fur Sheepskin Blanket designed by Omlet is just what every pet needs to make a pet den feel like a home within a home! Let your pet discover an extra layer of comfort with this carefully and beautifully designed pet throw! It will quickly become your pet's favorite blanket to bring with them wherever they go and you will love the ease of cleaning the dirt and smells as it is completely machine washable.
Most dogs and cats are social animals and love to be in your company. But just like us humans, when the weather gets cold outside, they like a personal retreat to call their own so they can feel comfy and warm. So create that cozy den for your pet so they can enjoy the magic of the season just as much as you!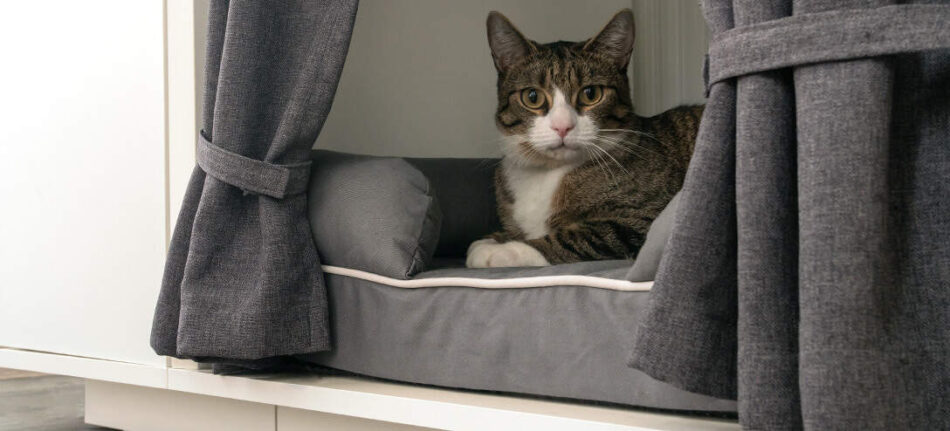 This entry was posted in Cats
---