How Do Cats Communicate With Each Other?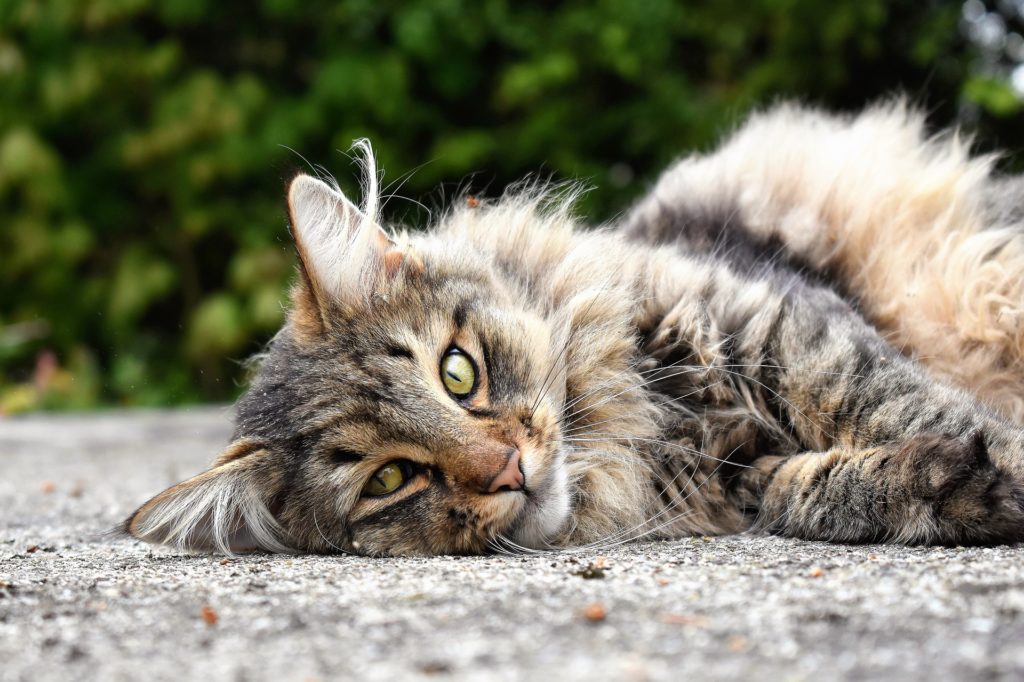 Cats are busy sending messages to each other even when they're silent. They live in a world of visual clues and scents, and sound is only one piece of the puzzle.
Fascinatingly, it seems that the familiar meowing and purring is something they have developed mainly to communicate with humans, not fellow cats. Studies of feral cats show that they meow and purr far less frequently when there are no people around.
These specifically feline-to-human modes of communication show just how long our two species have been together. Thousands of years, in fact.
Talking Cat-to-Cat
Cats have a trilling meow, used as a general greeting for other cats, and also used by mums to call their kittens. They also produce a trilling-chirruping sound when watching potential prey or stalking. The pleading, drawn-out "mee-owww!" is something they reserve for us – to get our attention and encourage us to interact with them.
Cats are loners at heart. They growl and yowl at each other, usually to say "back off!", or "Here I am!" At its most extreme this vocalisation becomes a wailing scream, when two tomcats face off in the street. A female cat in heat also produces a piercing 'caterwaul'.
A commoner sound of anger or anxiety is the hiss, sometimes escalating into a growling, spitting sound – usually culminating in an attack. Cats will also yowl when they are in physical distress.
A Tale of Cat Tails
For everyday communication, the body is used more than the vocal cords. A cat's tail acts like a flag waved on a stick. If it's upright, the cat is feeling chilled out and friendly. Cats often bend the tip of their upright tail forward when approaching a cat they like. A full tail twitch means the cat is feeling indecisive, but if the upright tail swings back and forth, the animal is relaxed.
If the tail lashes back and forth the cat is stalking something, or is curious. A swishing tail can also indicate the early stages of anger.
It's when the tail fluffs out, and the cat's hair stands on end as if it has received an electric shock, that the cat is at its most stressed. The cat is feeling threatened, and the hair-standing-on-end response is an attempt to make the animal look bigger, to scare away other cats, dogs, or whatever else is freaking out the furious feline.
If the cat is not yet sure of the various signals from its fellow felines, and therefore feeling a bit uncertain or uncomfortable, it will crouch down with its tail tucked tightly in by its side. It will stay in this position while it weighs up the situation. Alternatively, the cat might decide that discretion is the better part of valor and simply leg it!
A truly chilled and submissive cat will roll over and show her belly to the other cat. This is a signal familiar in dogs too.
The Eyes Have It
Cats also signal their mood with their eyes. A hard stare means they are focused on a danger or prey, and may also mean that they haven't decided whether it's a 'fight' or 'flight' situation.
A slow blink is a sign of affection, and also of submission. What it generally means is "I'm no threat to you, you're no threat to me, and I like it that way!"
If the cat blinks, looks away and crouches with flattened ears and a nervous licking of the lips, it means she's feeling threatened or scared.
The flattened ears are a general sign of uncertainty or anger. A happy cat has relaxed ears; and when focused on a toy, a sound or prey, the ears are erect and face forward.
Mutual grooming, nose-touching and gentle, friendly bites are happier forms of physical cat communication.
Smelly Messages
Scent is important to cats. They leave pheromone signals across their territory, both in the home and outside, by rubbing things with their scent glands. These are found on the cat's cheeks, which is why it likes rubbing its head on your leg. This is a form of affection, you could argue, but its main aim is to spread the pheromone messages. Cats also have scent glands where the tail joins the body, which is a less appealing region to be rubbed by!
Tom cats will often spray urine in their territory. Indoors this is uncommon, thankfully, but may become an issue if a strange cat has ventured into the building. Neutering usually brings an end to this macho, territorial habit.
Much of this communication behavior stems from the fact that cats are not pack animals. They need their personal space, and only invite others into it – feline or human – when they're in the mood. How Do Cats Communicate With Each Other?
Learn to recognize the animal's vocal and body language, and you'll soon be able to 'speak cat' yourself, to a certain extent!
This entry was posted in Cats
---