Why your Rescue Cat could benefit from the Maya Nook Cat House
Many cats in rescue centres looking for a new home have had a very tough time of it. Whether mistreated, abandoned, stray, or injured, the kitties who find themselves in the care of a rescue organisation can, quite understandably be wary of humans.  But this isn't a reason to give up on them.
When I adopted my cat he was depressed and overweight due to the large amount of time he had spent hidden away in his kennel, showing no interest in playtime or human interaction. He had been with the rescue organisation for 4 months and not one person had shown him any interest. Stress had caused his fur to come out in great tufts, but as I stroked him he let out a little purr. I adopted him then and there.
On bringing Smudge home, I opened the door to his cat carrier but he refused to step out for a good few hours, and when he did he scarpered under the kitchen table, hidden as best he could.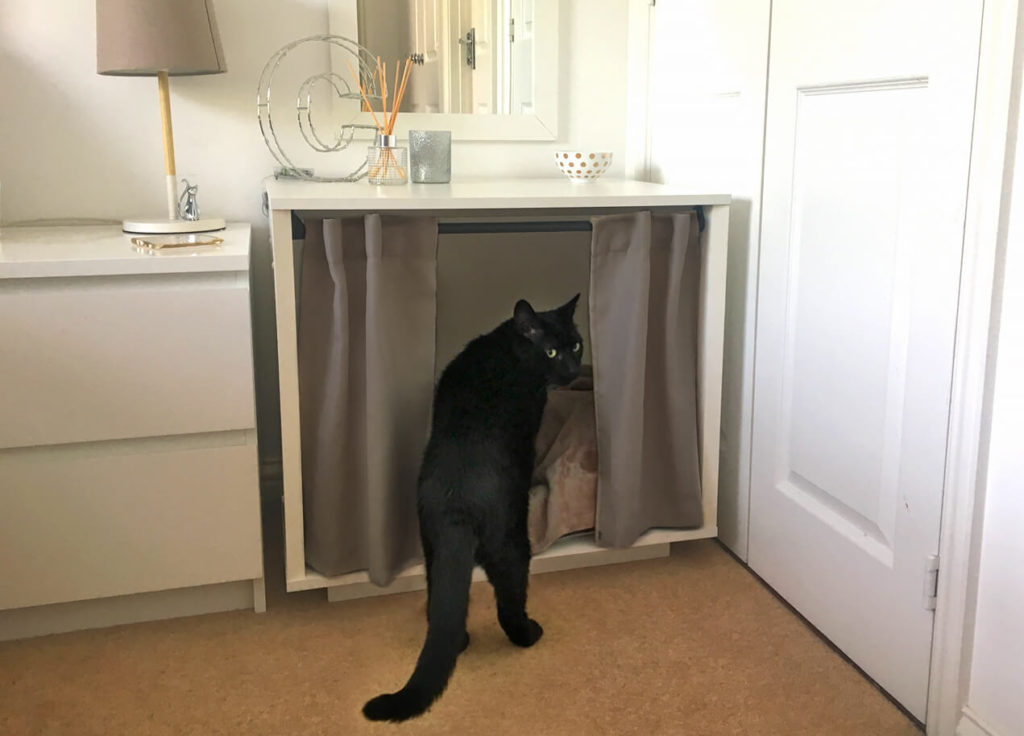 In his first few weeks with us he spent a lot of time hidden under beds, behind the sofa, in between boxes or attempting to blend in to a pile of clothes or under a blanket. It took a long time for Smudge to be brave enough to spend time on the sofa and beds, and even then he wouldn't be up there for long until a slight movement or noise would frighten him and he would vanish.
It became very obvious he was going to take a bit more time to settle in and to feel less afraid, so I was going to need to think outside of the box – or more so inside. As I noticed he felt most secure in an enclosed space where nothing could reach him and he was protected from harm, I started to think about the best kind of bed to suit his timid personality.
The Maya Nook is a cosy indoor Cat House with curtains. Yes, you heard that right, it's got curtains. But before you start rolling your eyes at another example of anthropomorphism, let me explain. The curtains not only make the Nook look really nice, they are also fully functional and transform the Nook into an enclosed little 'room' where cats can rest and sleep in a peaceful, secure space they can call their own. Placing their bed in a den-like Nook gives them a sense of distance and security from a busy home life, while the addition of the curtains completely closes off their space so they cannot see outside, and likewise they cannot be seen.
When I introduced Smudge to the Maya Nook, it took a short while for him to get used to it. I allowed him to spend some time alone with it, giving him the opportunity to approach it at his own will, instead of picking him up and forcing him inside, which I thought could create a negative association. He spent some time sniffing around, going in and out for short periods of time with the curtains open. When he had settled inside for the first time, I closed the curtains for 30 seconds or so and opened them again. I repeated this a couple of times so he could get used to both scenarios.
When he would spend time hidden behind the sofa or under a bed, he seemed to mostly be awake and on guard, unable to relax, whereas now that he is sleeping in his Maya Nook, I feel as though he is getting much better quality rest and actually being able to switch off from what is happening on the other side of the curtains.
The combination of a quiet space and better sleep time has had a multitude of benefits to Smudge's progress in our home. He is visibly more relaxed and spends more time out of his bed and in the open space with the family, compared to when he spent all of his time hidden and stressed. He is beginning to open up to the possibilities of play time, visitors are still feared but he is becoming braver with showing his face, and always has the comfort of being able to run to his Nook whenever it gets a bit too much for him.
I am sure this will also be hugely beneficial for events such as Fireworks Night and New Years Eve, when the bangs and pops of fireworks can be relentlessly frightening and heard for weeks on end. The Nook will help to reduce the sound, while the curtains will block out any flashing lights coming through the window.
The Maya Nook is designed to fit in the home like a piece of furniture, so we are able to use the space on top for whatever we please. It is a great spot to feed my cat and keep his water bowl so it is always close by and in his "safe zone." The Maya Nook is also available with a handy fitted closet which provides extra storage for cat food, treats and toys.
Adopting a rescue cat is really rewarding and I'm so glad that I didn't let Smudge's initial shyness put me off.  If you have adopted or are thinking of adopting a rescue cat who continues to be very nervous and stressed in your home, I would highly recommend providing them with an indoor cat house like the Maya Nook so they can claim a secure space for themselves – it could transform your cat's personality.

This entry was posted in Cats
---