Rescuing Ex-battery Hens – A Photo Diary – Part 2
Nathalie is the owner of the Instagram account My Backyard Paradise. Together with her husband and their three teenage daughters she runs her own 'mini backyard farm' in Belgium. The beautiful pictures she shares with her Instagram followers show that this truly is a backyard paradise. In June 2018 Nathalie decided to extend her mini farm with three ex-battery hens. Follow their journey to recovery in the two-part photo diary she kept for us. You can find part one here.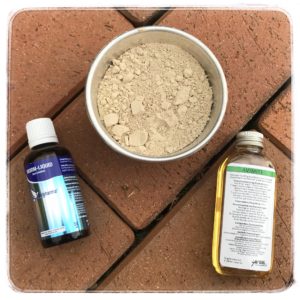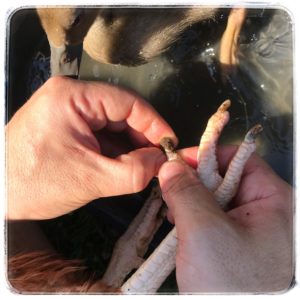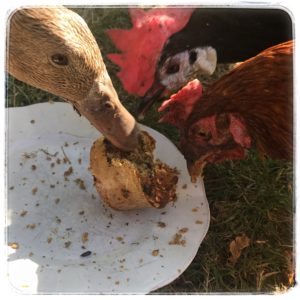 Week 3
The chickens are still eating an Alfamix mixture, a very rich grain blend with pellets and amphipods, and layers pellets. It's time to further reduce the layers pellets (this was the only feed they had before we rescued them). For one month we will only give them Alfamix, then they will get the same food as our other chickens. Our chickens also always have access to a large meadow where they can find lots of extra food.
It's also time to do something about their nails. Usually it's better not to cut chicken nails, they just have to wear down. But the manure stuck under their nails needs to go. We soak their feet in lukewarm water and wash off the manure. This takes more than half an hour per chicken. In the meanwhile our ducks decide to help us and bathe in the water! As a reward we give the chickens a treat afterwards. It's strawberry season, so I cut some strawberries into small pieces. My husband says the chickens are still ignorant, they are not used to anything and do not know how to eat a whole strawberry. But they do like the small pieces, they finish them in no time. Slowly we introduce more variation into their diet. Our chickens always get a decent amount of fruits and vegetables, kitchen scraps, leftovers from our children's lunch boxes etc. We'd rather give it to our chickens than putting it on the compost heap.
We are down to two eggs per day. One chicken stopped laying completely, but we don't blame her. It's nature and we have to respect it. 
This week it rained for the first time in a long time. Fortunately, I have a very caring daughter who wants to make sure the chickens look for shelter. When she checks on them she finds them in their run, not moving and soaking wet. When she comes back in she's also soaking wet. She tells me she put the chickens in their Eglu and closed the door "because otherwise they will never learn, mum!". Our children are really interested in our new chickens and they think it's terrible how laying hens are treated by the industry. They tell me that next time we have to save 50 chickens! But I don't think our neighbors would agree with that. It's important our children learn that nature has a rhythm, and that chickens lay fewer eggs during winter. But this doesn't mean they have to die! We will just eat less eggs and have to remember to store eggs in the freezer so we can use them for cakes later on. We certainly will not buy any eggs this winter!
Week 4
Our chickens really start to get to know us and they know when we will bring them treats. It's now time to introduce them to the rest of our chicken family. Our chickens have not been allowed to free-range since the new chickens arrived. The risk that they would transmit parasites was just too high. But now they are allowed to run free again. And they are very curious to meet these three brown newcomers! The new ladies on the contrary are not too sure about this and stay close together in the middle of their run. We will spend this week introducing them to each other. Eventually we want to keep them all in the same large chicken coop. In no time they are used to the other chickens and don't even seem to notice anymore when ten other hens scratch around their run.
Since they are now part of our extended chicken family we have to come up with names for the ladies. This is something we always decide as a family. We decide to go with names of the Belgian Royal Family. Overall, they will be our best laying hens, so they deserve some respect. We name them Louise, Elisabeth and Mathilde. They are not scared anymore and eat from our hands. It helps when you talk to them softly, as they start to recognize your voice and associate it with food. Besides vegetables we now also feed them scraps like rice and pasta, which they really seem to enjoy. And they still give us two eggs every day!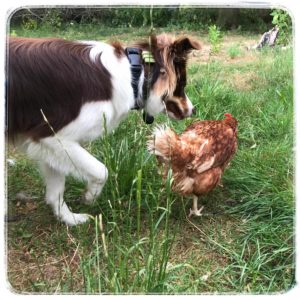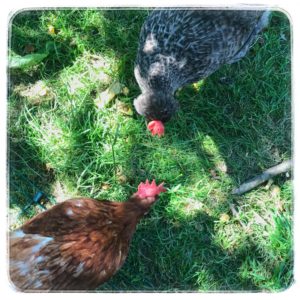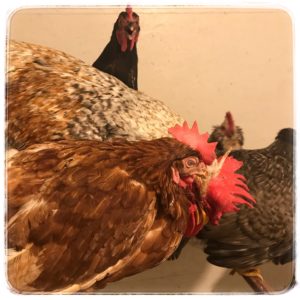 Second month
It's finally time. We move the Eglu to the orchard, our chickens' playground. We open the door of the chicken run. Our ladies stay inside, but our greedy Faverolle cannot wait to taste their feed and unsuspectingly enters the run. Immediately the three chickens attack. My children are shocked, they did not see this coming! I don't worry too much since I know they'll soon sort themselves out and are now strong enough to defend themselves. We just have to give them a few days to get used to each other.
They then take off to discover the orchard, but stay together all the time, and the other chickens don't come near them. But it is time for them to sleep in the big chicken coop with the other chickens. At night, when it's already dark, we take them out of their Eglu and put them on a perch in the big coop. The best time to do this is at night when it's dark, so they won't start fighting. This way the chickens will also all have the same smell in the morning. We keep the automatic chicken door closed for 2 days. This will enable them to sort out the pecking order and it will give them time to get used to their new home.
The transition actually goes really well. But they don't let the rooster come near them! They are clearly higher in the pecking order than him! After two days we open the door of the chicken coop and allow everyone outside. The three ladies are slightly hesitant but eventually decide to have a look outside to see what the other chickens are up to. The only problem with the three chickens is that they like to stay out late, after the door of the automatic coop has already closed. My husband takes a flashlight to look for the chickens and puts them in the coop with the other chickens. But we can't do this every night… We're going on holiday soon and we want the chickens to go inside the coop by themselves. Instead of putting them in the coop we just manually open the door again when they want to get in. After a few days they enter the coop before the door closes. We can now go on holiday and don't have to worry anymore!
I notice that since they've decided to sleep inside the coop, they've really found their place in the group. They even sleep on the highest perch. We notice the amount of eggs has really decreased. We just find one egg per day, which is strange since we hear two chickens clucking. Our youngest daughter decides to keep a close eye on the chickens. After spending half the day in the orchard, our daughter proudly tells us she found out where one of the hens is laying her eggs. There is a hidden nest! A true treasure with seven eggs in it! After removing the eggs and twigs, this hen also decides to lay her eggs in the chicken coop.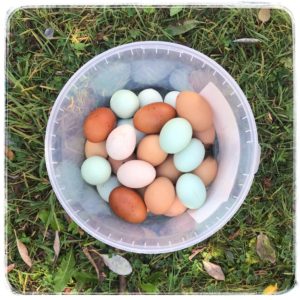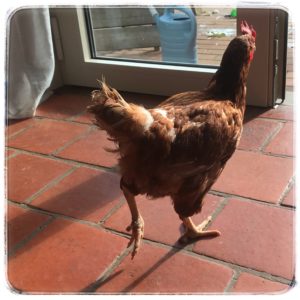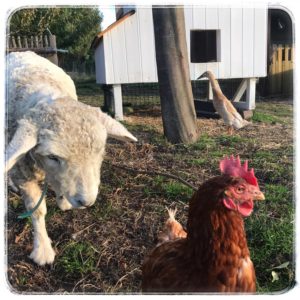 Three months later
We split our holiday in two so we can check on our chickens and collect their eggs. There is a fox in the neighborhood, so we are scared every time we come back home. But they're all still there! We have an automatic poultry drinker, they have plenty of food in their feed bucket, and with all the plums, peaches and apples falling from the trees there's also more than enough variation! There's nothing better than a bunch of happy chickens and a bucket filled with colorful eggs. Now all of our chickens are allowed to free range in the garden when we are home. The three ladies are now the most adventurous. Our other chickens never noticed the compost heap but the three ladies have already found it (and they help mixing it a little bit). The only chickens that sometimes enter the kitchen are these three. And when we have dinner outside, one of them will sometimes just jump on the table. They surely provide entertainment!
We are really relieved and also proud the three hens have adjusted so well. It was a difficult summer for the animals. It was really warm and there was no rain to cool them down. But with the right care and some extra attention it all went really well.
The three hens are proud chickens now, and are definitely are part of our chicken family. They are very tame, and they are always the first to come to us so we can pick them up and cuddle them. They are very curious and love colorful shoe laces. Their egg production has stopped because they need all their energy to renew their feathers. We give them protein muffins to help them with this.
Just a few weeks from now they will have beautiful shiny feathers and the only thing that will remind us of their past will be their trimmed beak!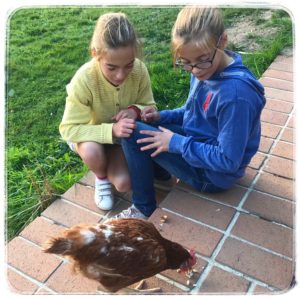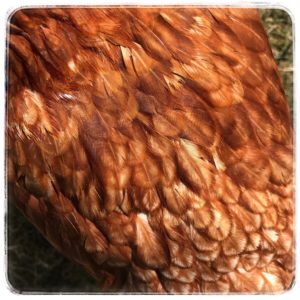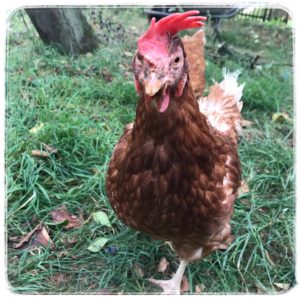 This entry was posted in Chickens
---