Why do cats need to climb?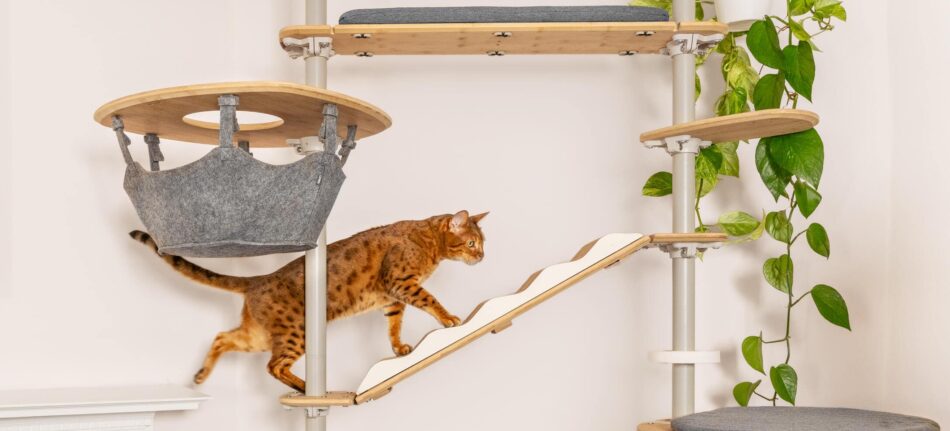 Chances are if you're looking for your furry feline somewhere in the house, it's likely your cat's climbed up to an elevated location. Be it a bookshelf, the counter or the back of the sofa, the act of scaling heights is a very natural cat behavior that's a crucial part of their everyday life.
But why do cats need to climb? Is it for fun or just part of their function? Or is it both? We explored all the reasons why cats climb and discovered how it makes them feel. Let's jump in (or up!) to learn more.
Why do cats climb?
In the wild, cats are both predators and prey. As hunters, they instinctively seek out higher levels to view their surroundings and assess their environments. In order to enact the famous cat pounce, they have to be able to see what they're pouncing on. And what better way to get that viewpoint than from higher ground?
But climbing up higher not only allows cats the ability to see their surroundings better, it also elevates their safety from being hunted by something larger. If you were being chased through a forest full of trees by something bigger than you, what would you do? Our guess is you would act like a cat and climb a tree for safety. Great thinking!
As domesticated pets, however, a cat's instinct to explore and feel safe at higher heights does not just go away because they are no longer predators or prey. So how can you still play to your cat's instincts without having a forest in your living room? How about by planting (or placing) an indoor cat climbing tree for them to use. Encouraging your cat's natural behaviors is one of the most natural things you can do as a pet parent. After all, climbing is not only instinctual for cats, it is stimulating as well.
Do all cats climb?
The short answer to this question is, yes. However, while all cats CAN climb, not all cats LIKE to climb. While the urge to hunt, seek, explore and hide is prevalent in every cat breed, some cats are more prone to loving that urge from higher places than others.
Take Persian and Ragdoll breeds, for example. Equipped with shorter bodies on top of shorter legs, these cats prefer to keep their active play on the ground as it's easier on their smaller frames. Whereas Abyssian and Siamese breeds satisfy their need to play and explore by climbing and jumping as much as possible. When it comes to cats and climbing, natural body types play a big role.
But regardless of breed or age, if you have a cat, you must have a cat tree to go along with them. The Freestyle Indoor Cat Tree designed by Omlet is a great option as it is completely customizable to your cat's specific needs and desires. Have more than one cat in your family? Increase their territory with more vertical space by adding cat tree accessories like hammocks, platforms and scratching posts. You will not only engage their senses more, but you'll also help save your furniture in the process!
How to encourage your cat to use a cat tree?
If you're a first-time cat tree owner, congratulations! You have given your cat the gift of adventure and delight all in one item. And while it's a given that all cats love a good cat tree, some cats have personalities that may require more encouragement than others to embrace it straight away. Here are some tips on how you can help your cat love their cat tree:
Slow and steady

: Cats are curious by nature and it's our job as pet parents to help them be cautious as well. So if you're introducing your cat to a cat tree for the first time, try using treats and

cat toys

as tools to help encourage them. Anything with

catnip

is guaranteed to get them going!

Start low

: One of the best features of the

Freestyle Cat Tree

is the ability to truly customize the setup and adjust accordingly. For cats that are just learning the cat tree ropes, start by placing the platforms and hammocks down low so they can ease into it. As they get more comfortable with the accessories, you can move them higher up so they can explore from different angles.

Expand with ease

: Your

indoor cat

will soon love the freedom they experience on their cat tree. So continue to expand their ability to lounge, scratch, nap and play by adding new accessories or poles. Feeling like your cat needs even more space? Try an

outdoor cat tree

on for size and watch your kitten get smitten by all they can see. Just be sure you enclose the cat tree securely with an

outdoor cat enclosure

so they can safely enjoy their new outdoor playground!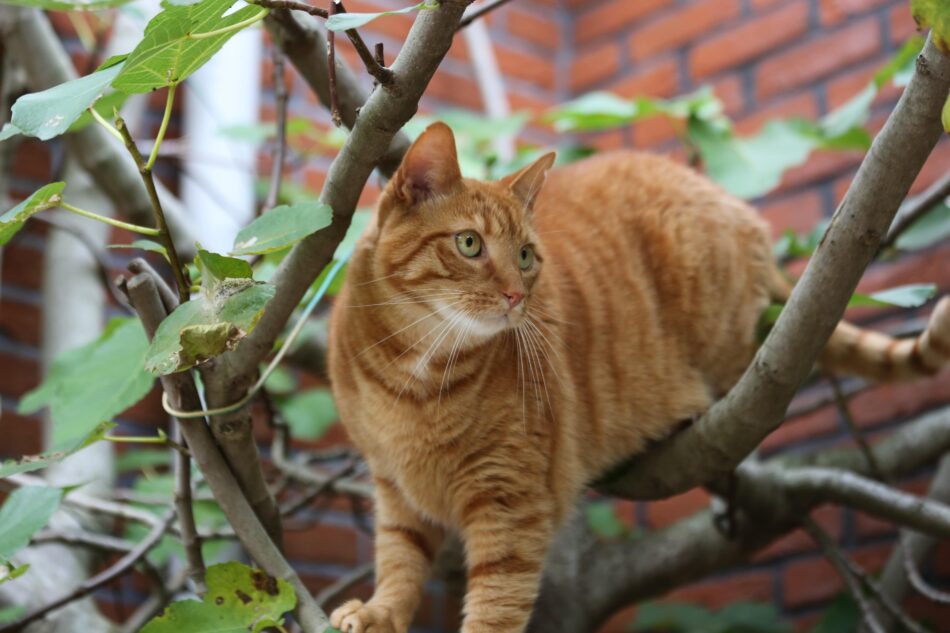 Cat climbing safety
We want our cats to stay healthy and safe at all times and climbing on a cat tree, or any object for that matter, is no exception. So how can you make sure your cat stays safe when climbing? 
The first rule of thumb is to rely on their natural instincts. Have faith that your cat was born with the innate knowledge and ability to scale tall objects. Your part is making sure you provide them with the right tools for the job.
For kittens and senior cats, we recommend cat trees with adjustable accessories so you can move them closer to the ground. Both of these ages are prone to injury more than others, so you want to cater to their specific needs and keep their heights to a minimum. 
It's also important that you place your cat tree in an area of the home that is out of the way of other pets or children so you can be sure everyone, including your cat, stays safe. Make sure you secure the cat tree properly so your cat can confidently climb and jump without fear of falling over. 
Finally, we suggest using sustainable materials for all your cat products so that you can ensure you are giving both your cat and the environment the best care. Products such as engineered cardboard or sisal cat scratching ramps are great options as they are not only durable enough for cat scratching nails but are also clean products to have in your home.
How Omlet helps your cat's natural instincts
As the pet company that creates based on our research of animals' natural behaviors, Omlet continues to incorporate these essentials into all of our products and designs. Our expertly crafted cat trees and accessories are engineered with every instinct to explore, jump, nap and play in mind. And when your cat is finished with a fun adventure of climbing, be sure they have a cozy cat bed to rest on to help them unwind.
This entry was posted in Cats
---