Introduce Your Chickens to the Awesome Chicken Swing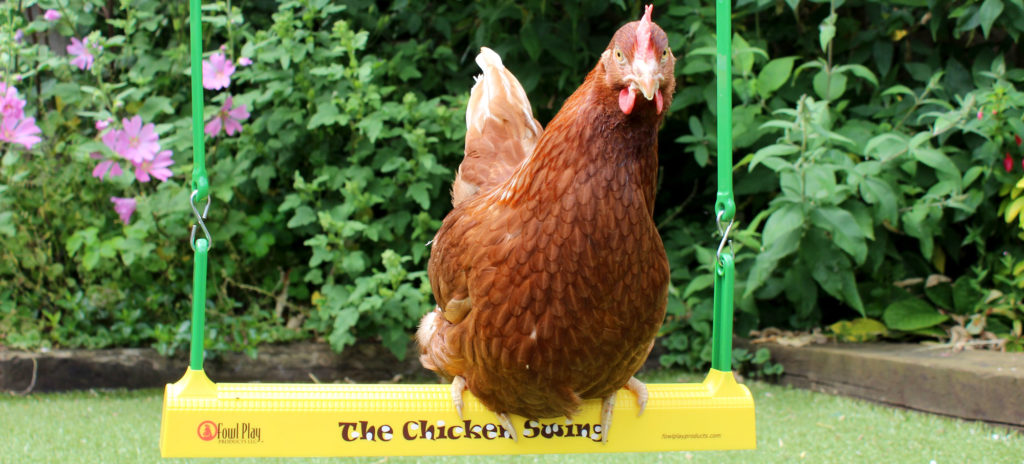 Roosting high up in trees comes natural to chickens, as that is one of the safest places to rest if you're a chicken in the wild. And doing so on gently moving, or even swinging, branches makes you an even more difficult target for predators. So instinctively your birds should be happy to jump straight up on their Chicken Swing!
With that being said, chickens are vulnerable and clever creatures, which means that they can be wary of new things. They don't like being the first to try something, so if you've got your flock a new toy and are disappointed they don't seem particularly interested in it, you might have to help them take the leap! 
Setting Up The Chicken Swing
The Chicken Swing is cleverly designed to make it as easy as possible for chickens of all ages to use it. The base of the swing has a texture resembling a corncob, which makes it more grippable than a smooth plastic surface.
Make sure you place the swing free from any obstructions such as walls, mesh or other things on the run. Choose a sheltered spot under cover so the hens can do their swinging no matter the weather! 
Eventually you ideally want the Chicken Swing to sit above the chickens' heads, so that they will be able to swing without the risk of bumping into one of their friends. It's no problem for a chicken to jump up a few feet, but to make it as easy as possible in the beginning, start with the swing close to the ground. The Chicken Swing is lightweight enough that if it were to hit one of your hens, it won't hurt them. 
You won't need to train all your chickens to get on the swing. They are flock animals, so if you get one of them to show the others how it's done, there's a high chance the others will follow shortly!
Letting your chickens give it a try
So choose your most adventurous chicken and place her on the swing, which at this stage should be hanging very low to the ground. Give her something delicious straight away, so that she associates the swing with yummy treats. Do this a few times until you feel she's comfortable perching on the swing. At this point, push the swing slightly to get it moving. Reward the chicken every time she swings towards you. Push a bit more every time you're trying, and start lifting the Chicken Swing higher and higher above the ground. 
If the chicken at any point seems stressed or anxious, stop the training, let her down and go back to basics. It's important that she only has good feelings associated with the swing! 
It's not guaranteed that all chickens will warm to the swing, it's just a fact you have to accept. Young chickens are in general more likely to take risks and learn new things, but personality plays a big part, so you're not automatically going to succeed just because you're introducing the swing to chicks. However most chicken will, after some persuasion, absolutely love swinging, and it's worth a bit of work when you see your girls queueing up for their go!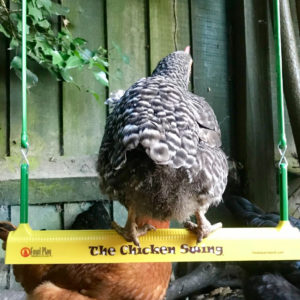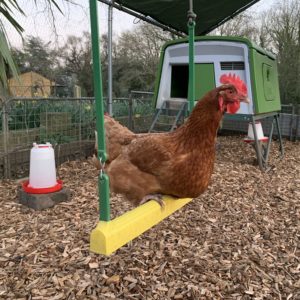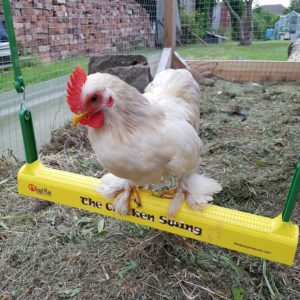 This entry was posted in Chickens
---