Introducing the NEW revolutionary Eggscalator
April Fools!
While an
Eggscalator
for lazy hens is not available (
yet,
) you can still bring your chicken coop into the 21st century with the amazing Automatic Chicken Coop Door from Omlet. 
Here's 7 reasons why the Autodoor is the best of its kind…
The Autodoor can be installed on all wooden chicken coops, the MK1 and MK2 Eglu Cube, plus all Eglu runs and chicken wires.

You can set your Autodoor to open and close at a specific time or light percentage to suit your chickens' routine. No need to get up at the crack of dawn in summer to let your chickens out – the Autodoor will do it for you!

Don't worry about keeping your chicken coop close to a power source, the Autodoor is battery-powered by 4 AA batteries which can last up to 6 months.  

Reliable in all weather conditions, this is a gadget that will take you from winter to summer, and back again with no problem.

The Autodoor's built in safety sensors ensure no chicken is harmed or trapped in the door when investigating their new gadget. 

Improved coop security! The horizontal Autodoor is far safer than it's vertical, guillotine style competitors, which can be easily lifted by predators.

Low maintenance and easy to install, the Autoodor includes everything you need to get started in one box!

You can now connect a coop light to your Autodoor to encourage your chickens to return in the evening. It also makes checking on your pets in the evening much easier!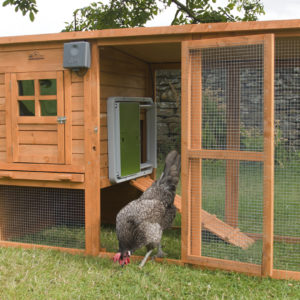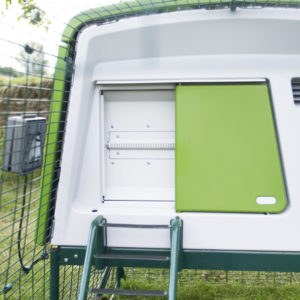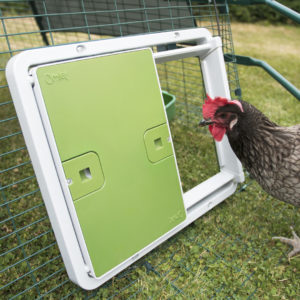 This entry was posted in Chickens
---