How to give your rabbits and guinea pigs more space with Zippi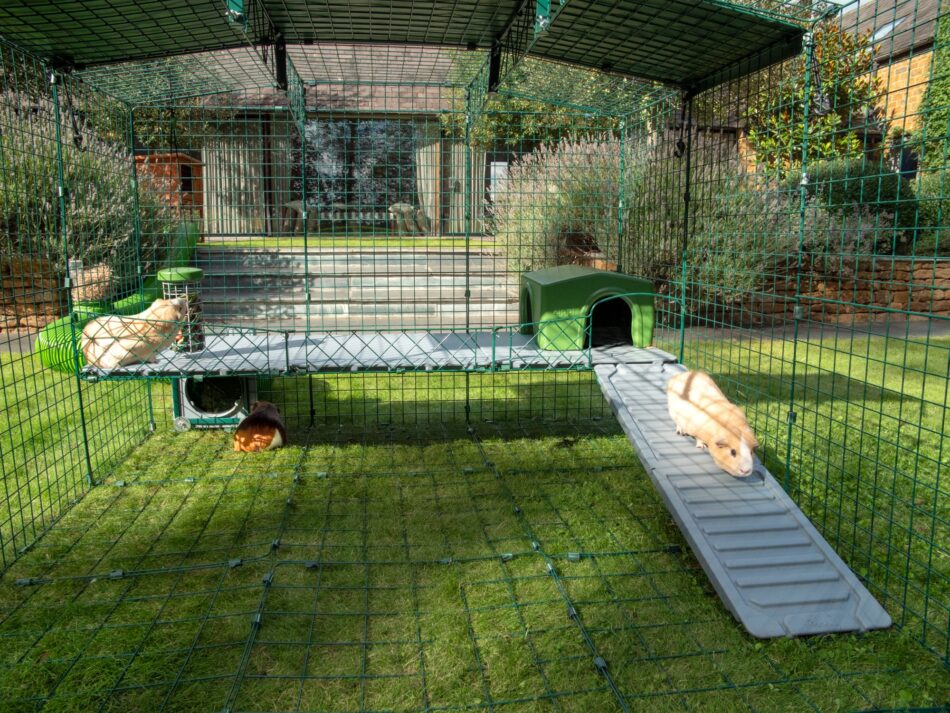 Small animals like rabbits and guinea pigs need to run. If provided enough room, your bunny will "boing" across the grass, and your guinea pigs will "popcorn" their way across their play space. But if you haven't noticed these behaviors from your small pet, it may be time to add more space for them to exhibit these natural expressions of joy. 
In addition to the joy that exercise brings your rabbit or guinea pig, it's also vital for their health. Rabbits crave running, and guinea pigs need to move their little legs throughout the day to avoid becoming dangerously overweight. An under-exercised rabbit can easily become bored and depressed, and overweight guinea pigs experience joint pain and metabolic issues. 
How much space should my rabbit or guinea pig have? 
Realistically, you may not be able to take your rabbit for a run every day, or make sure your guinea pigs are getting their steps in. To ensure they're getting enough exercise, try to offer as much space as possible. But unlike a pet dog, rabbits and guinea pigs can't simply be turned out into your backyard to stretch their legs. 
A high-quality hutch for rabbits and guinea pigs with an attached run is one of the best and easiest ways to help your small pet get their steps in throughout the day. Our attached runs can be extended to up to 12 feet long, giving your bunny room to boing and your guinea pig plenty of room to popcorn. And, with our heavy-duty mesh roof, sides, and flooring to help prevent bunnies from burrowing out, your small pet can enjoy their time outside safely. 
How can I add more space for my rabbit or guinea pig? 
Ready for even more space, or need a space away from your rabbit or guinea pig's hutch? We've invented Zippi Runs and Playpens for Rabbits and Guinea Pigs to be the ultimate space for your bunnies and cavies. The same heavy-duty wire that is used for our attached runs make our Zippi Run and Playpens a safe, secure, and resilient place for your small pets to experience their world. 
Choose from a variety of options to fit both your pet and space. For rabbits, our double-height playpens and runs are the perfect height to keep boisterous bunnies contained, and optional underfloor mesh keeps burrowing to a minimum. Cavies can safely enjoy our single-height runs and playpens, with or without underfloor mesh. Both our single and double heights have the option to add roof panels and anti-dig skirting for even more security. 
Double the fun that our double-height runs have to offer when you add Zippi Platforms for Rabbits and Guinea Pigs. Utilize aerial space in their run, and give your pet a platform to perform tricks, meet for mealtime, or see you at eye level. Bunnies and cavies alike will feel the benefits of "taking the stairs" when they use the non-slip ramps to access our Zippi platforms. After all that exercising, the space below the Zippi platform offers a shady spot to take a post-workout nap.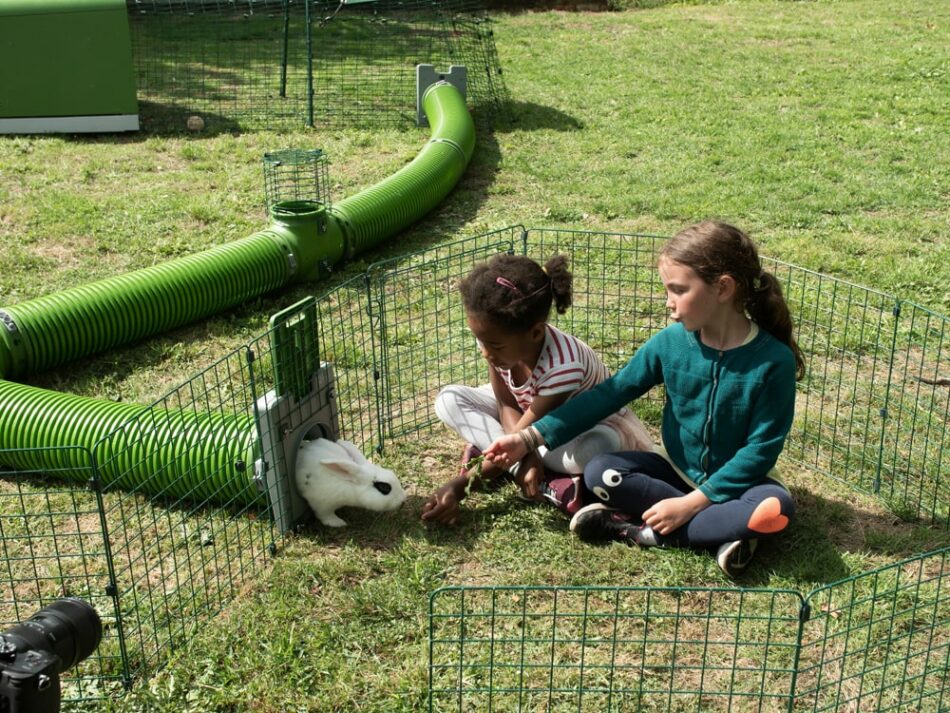 Connect their spaces with a tunneling system 
We didn't just stop at playpens and runs – we also invented the ultimate tunneling system for both rabbits and guinea pigs to fulfill their natural desires to burrow. Our one-of-a-kind Zippi Tunnel System for Rabbits and Guinea Pigs can act as a standalone track set up for playtime, or connected to any run or hutch. Design routes for your rabbit or guinea pigs to go from their hutch to playpen or run and watch them enjoy being in their element. 
Our Zippi tunnels are made of durable materials that are meant to last, and can be customized with our intuitive Zippi Tunnel Builder. Create twists, turns, look-out hay feeders, intersections and more when you design your own course. And keep your rabbit or guinea pig on their toes by adding onto or reconfiguring the Zippi Tunnel System at any time. 
Other enriching activities for rabbits and guinea pigs 
Zippi Runs and Playpens also give you an opportunity to add even more engaging activities to your pets' space. Create a treat-filled maze for your cavy out of repurposed cardboard boxes, or make a digging box for your rabbit with a litter pan or cardboard box filled with treats and shredded paper. Add bunny or cavy shelters and play tunnels to your pets' home to incorporate even more fun into their enclosure. 
Along with exercise, diet is important to keep your rabbit or guinea pig in optimum health. Offering treats occasionally is fine, but the bulk of their diet should be timothy hay-based pellets and free-choice timothy hay. You can also offer fresh greens in our Caddi Rabbit and Guinea Pig Treat Holder to attach to their run. This elevated treat dispenser reduces waste and encourages your pets to stretch their bodies and mind to reach their treats. 
Omlet and your small pets 
Omlet's goal is always to bring people and pets closer. Our entire line of Zippi products are designed to foster natural behaviors in rabbits and guinea pigs, while bringing enjoyment and wonder to their owners. Zippi Rabbit and Guinea Pig Platforms, the Zippi Rabbit and Guinea Pig Tunnel System and Zippi Outdoor Rabbit and Guinea Pig Runs are all creative accessories that let you and your pets experience their world like never before. You'll be amazed by how happy and at ease rabbits and guinea pigs are when they're in an environment that they truly enjoy.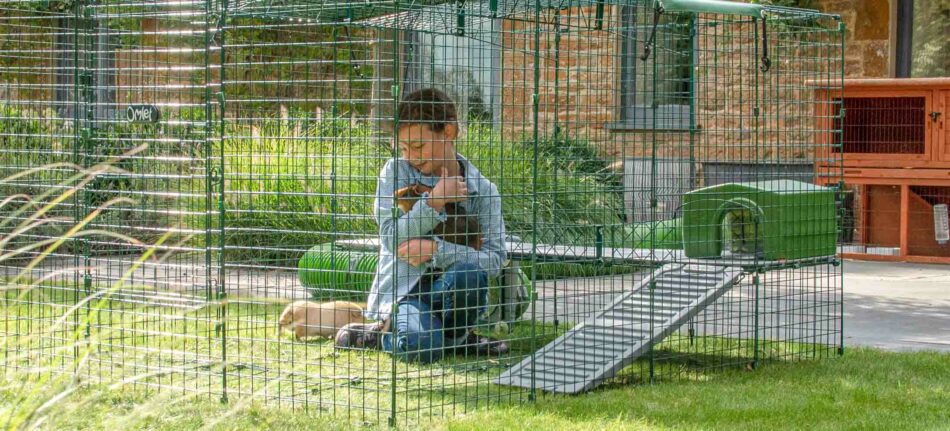 This entry was posted in Guinea Pigs
---