Keep Your Pets' Run Hygienic With 50% Off Caddis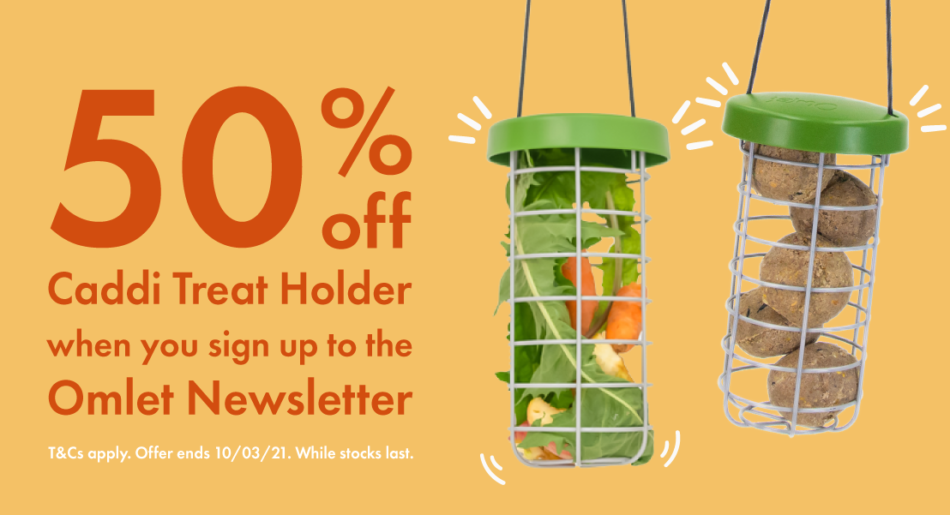 Ever cleaned your pets' run and found old bits of moldy cabbage or soggy feed that is nearly impossible to pick out of the grass? There is an easy way of keeping your pets' treats fresh for longer, while also improving run cleanliness AND keeping your animals entertained!
The Caddi can be hung at any height from all pet runs, trees or other structures in your backyard or garden. It's super easy to fill with whatever you want to give your pets, be it bits of fruit, or fresh hay.
At the moment you will get 50% off Caddi Treat Holders for chickens, rabbits and guinea pigs when you sign up to the Omlet newsletter. Take this opportunity to make your pets' run more fun and more hygienic than ever before!
---
4 reasons Caddi will improve your pets' run:
All pets will be happier if their living quarters are tidy and clean, but it's also important for their health that both their coop or hutch and run are kept hygienic. Moldy food left on the damp ground can make a chicken, rabbit or guinea pig very ill, so having a Caddi to keep it in will make it much easier for you to spot anything that's gone off, and to remove it in a second.
Food, treats or hay that is left on the ground on the run will go off very quickly, especially at this time of year when temperatures can vary dramatically between day and night and there is likely to be more rainy days. With the Caddi, the treats you leave your pets will keep fresher for longer as they won't come into contact with the wet ground. They will also be kept dryer thanks to the waterproof top.

The end of summer means that there will be less food available for wild animals like rodents and small birds, and they are likely to approach your garden and your pets' home in search for tasty morsels. By putting feed, hay or vegetables in the Caddi rather than scattering on the ground, you are making things more difficult for uninvited visitors!
As the treats, veg or hay you are giving your pets are kept contained in one place and won't get stepped on by muddy feet, they will be crunchier, cleaner and better tasting. As the swinging motion of the Caddi offers stimulation and entertainment, your pets will truly enjoy snack time!
---

Buy now and get 50% off when you sign up for the Omlet newsletter!
Terms and conditions:
This promotion is only valid from 09/28/21 – midnight on 10/03/21. Once you have entered your email address on the website you will receive a discount code that can be used at checkout. By entering your email you agree to receive the Omlet Newsletter. You can unsubscribe at any point. This offer is available on single Caddi Treat Holders only. The offer does not apply to Twin Packs or Twin Pack with Peck Toys. Excludes all other chicken accessories. Offer is limited to 2 Caddis per household. Subject to availability. Omlet ltd. reserves the right to withdraw the offer at any point. Offer cannot be used on delivery, existing discounts or in conjunction with any other offer.
This entry was posted in Chickens
---