Guinea Pig Activities – How to Keep Your Furry Friends Entertained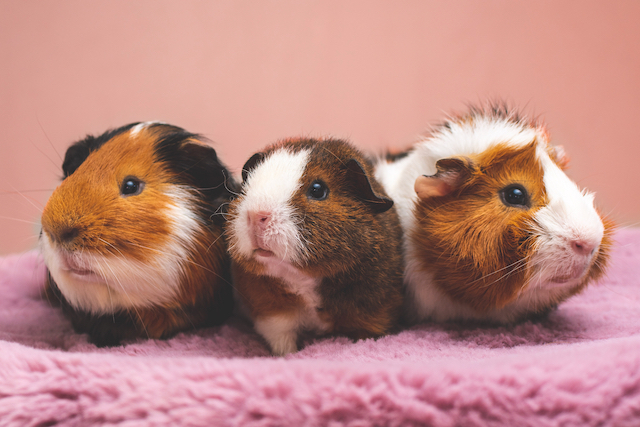 Guinea pigs are sociable, intelligent and playful – and they can get easily bored without enough stimulation. To have a happy and healthy guinea pig you should always have enough toys to keep them occupied. From toys that satisfy their chewing instincts, to those that offer mental stimulation and even their need to explore and exercise. It's easy to learn how to keep your guinea pig healthy and entertained with these helpful tips.
Guinea pig playtime is something both you and your guinea pigs can happily enjoy together. First, pay attention to your guinea pigs personality, find out what it likes to do: Is he or she timid or curious? Does your guinea pig show interest by chasing a rolling ball? Do they like to chew? This will help you to create games which build around these activities to keep your guinea pig entertained. Always make sure to play in a safe place.
Serve Food with Interactive Feeders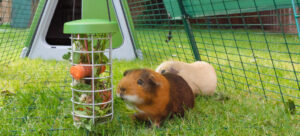 Don't just put the food in the cage or enclosure, give them a treat that they have to work for! Use our Caddy Treat Holder or fruit and vegetable holders to keep food off the ground and entertain your guinea pigs at the same time. You may also hide the food in a Hay Rack or in a rolled-up kitchen roll. For example, place a piece of cucumber in the middle of the roll and "close" the two sides with hay. Here, the guinea pigs have to eat their way through the hay in order to get to the actual treat. Or simply lure your guinea pigs by offering the food from your hand. But don't hold it tightly, release it as soon as the guinea pig has bitten.
Another playful way to keep guinea pigs busy with their food is to threaded or fastened vegetables, fruits and herbs on a rope or knotted with clothespins. The guinea pigs then have to make an effort to get to the food. It's important that the cord is thick enough so that a guinea pig doesn't get tangled up in a way in which they could get injured.
A great way to give your guinea pig something to nibble would be to buy some chew toys. They love chewing and what would be more perfect than chew toys?
You can also play a chase game with your furry one! Tie a small treat or a toy that your guinea pig loves to piece of string and drag across the floor for them to chase. Make sure you are moving a bit faster than your guinea pig so they can chase after it. This activity is a good way to keep your guinea pig exercising and alert! If you try this out, be extra cautious as to not let your guinea pig get caught in the string or swallow small parts.
You should also make sure to offer your guinea pigs alternatives when it comes to feeding them. For example, in Summer they can enjoy fresh grass and seasonal produce like corn. This not only brings variety to the menu, but also new ways to occupy your guinea pigs.?
Add Obstacles, Tunnels and Tubes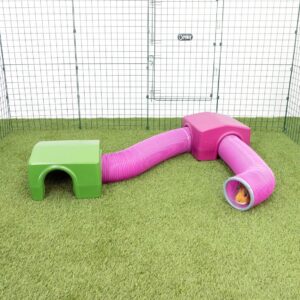 Tunnels invite you directly to explore and are very popular amongst all guinea pigs. They are prey animals, so having lots of areas for them to hide will make them feel much safer. Set up an obstacle course made of tubes and switch it up every week or so. Your cavy will happily walk through and dash around the tunnels. To make it a bit extra fun for your guinea pig, you can hide some treats in the tunnel/obstacle and your little friend can have a sniff around. Afterwards, they can also even take a nap in the tunnel! Our Zippi Tunnel System and Zippi Run Tunnel Accessories offer more space and an exciting new level for your guinea pigs to enjoy, while encouraging interactive play and exercise to strengthen your pet's muscles. You can also combine it with our Hay Rack for even more fun!
Why not try out an obstacle course? Just like other animals, guinea pigs enjoy stimulating activities and they are very smart as well! Set up obstacle courses with cardboard boxes or random objects from around the house. Make sure to provide them with enough space to run around and play. If you're feeling extra crafty, you can make them a maze!
Toy Recommendations 
Provide your guinea pigs with toys such as balls made from plastic, untreated willow or dried grass, and small stuffed toys. Ensure that there are adequate toys for each of your guinea pigs to have at least one of their own at any one time. Make sure to have items, which won't harm your little friend, e.g. buy a light and small ball which can't hurt your cavy and which can't be swallowed.
Try sitting on the floor with your guinea pig and rolling balls to it. You can also use a variety of appropriate and safe bird or cat toys here as well. The hanging bird toys with bells and wooden chew sticks are reported to be safe enough to leave with a piggy, but please remove the bell, unless it's too large to fit inside a guinea pig's mouth.
Soft sounds are great tools for training your guinea pig. Use a bell to signal feeding time, and soon your guinea pig will react to the sound. As mentioned in the beginning, if you know the personality of your cavy, you will find the right toy for your guinea pig.
Log bridges are a very popular toy for guinea pigs too. They are very versatile and can be used as a tunnel, shelter, ramp, divider and much more. Garden border edging works great too!
Paper/toilet paper rolls always make a great toy, whether you're using it as a feeding roll or tunnel. However, at some point we would advise you to cut it lengthways so that any pig poking their heads into it cannot get stuck.
Vary Placement of Enclosure Elements 
Guinea pigs need variety to keep themselves mentally and physically fit. A very simple trick to keep your furry friends entertained is moving the furnishings to a different place after each cleaning of the guinea pig cage or enclosure. Your guinea pigs will immediately embark on an exploratory tour, sniffing every little house and shelter and jumping on it! Guinea pigs love to rediscover their surroundings while finding even better shelters, playgrounds and viewing platforms. You can hide some treats if you wish, to keep your guinea pig extra amused.
You can attach some nice cozy sleeping areas to the furniture. There's nothing guinea pigs love more than cozy sleeping areas (unless you include food..). Some popular options include fleece huts or blankets, just be warned that they might go to the bathroom in these.
Make their environment varied and interesting with different levels and areas for your guinea pigs to explore; you can use things like ramps and boxes.
Not suitable for Guinea Pig Exercise
Toys: Guinea pigs love to play, but some toys are safer, healthier, and more enjoyable than others. Please always use toys with smooth edges as sharp edges can pose a danger and might hurt your little friend. Moreover, use safe and non toxic toys to gnaw and avoid toys that can be swallowed.
Exercise balls and wheels: These can be even deadly for guinea pigs.Guinea pigs have a different anatomy, and they can badly injure their backs with an exercise ball or wheel. Also, exercise balls are too enclosed and do not provide enough air circulation which can lead to heat stroke. This condition is often fatal for guinea pigs. These activities may be appropriate for some pocket pets like rats, mice, gerbils, and hamsters, but they should never be used for guinea pigs.
Bridges: Bridges are great for your furry friends but please keep in mind, guinea pigs are not necessarily known as the most skillful pets. So, wobble bridges are much more of a danger than a great toy, especially if the pet is not alone in the cage…
Leash/harness: If you think about putting a harness or leash on them, please avoid this. Guinea pigs are by nature flight animals and do not belong on a leash.
If you keep in mind this guidance and advice, your guinea pig will have a lot of fun and will be kept entertained. Try to promote the health of your furry friend and keep your pet amused and happy- your loving little buddy deserves it!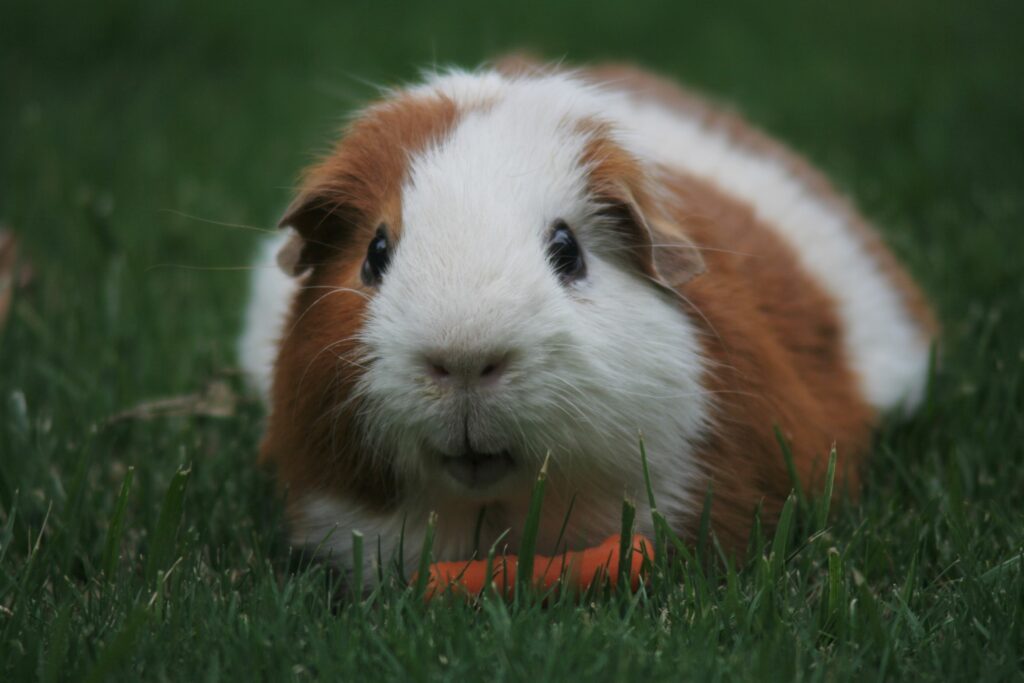 This entry was posted in Guinea Pigs
---