15% off Geo Bird Cage for a limited time only!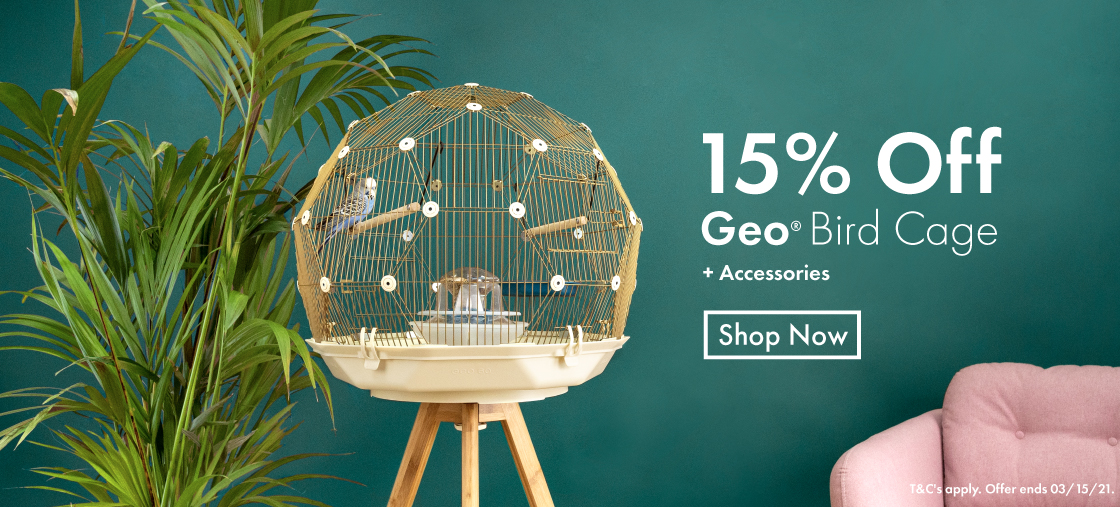 For a limited time only, save 15% on the Geo Bird Cage from Omlet.
Upgrade your budgie cage for 2021, with the stylish, easy clean Geo and it's integrated 'no-spill' feeder and drinker. Available in three contemporary colors with optional accessories, including the constellation Night Cover and striking blue Bird Bath, all now with 15% off!
Use promo code: HAPPYGEO
Offer ends 03/15/2021. T&C's apply.
See what our customers have to say about the Geo Bird Cage…

Julie, United States: Amazing cage! Aesthetically beautiful as well as spacious for two budgies. We bought the high stand and all the accessories and are completely satisfied with the purchase. ⭐⭐⭐⭐⭐
Naomi, Netherlands: Very satisfied with the Geo bird cage! The cage is not only beautiful and spacious, it is also very easy to clean. The material of the container at the bottom feels pleasant and is firm. Even if you don't have enough time to completely clean the cage once, you can easily get over it with a cloth, the dirt is super easy to remove. The feeder collects all the leftovers from the seed and it is also more fun to see the birds eat because it is in the middle. We are very happy with the cage and only have good comments! ⭐⭐⭐⭐⭐
Noe, France: I am delighted to have this cage and don't regret at all having bought it for its practical and original design! For my birds it's a dream life with plenty of space and much more natural light they can enjoy! I highly recommend it! ⭐⭐⭐⭐⭐
Terms and conditions
Promotion of 15% off Geo Bird Cages runs from 03/11/21 until midnight on 03/15/21. Use promo code HAPPYGEO at checkout. Includes all colors of Geo Bird Cage, plus full height stand, bird bath, mirrors and night cover. Excludes Geo Bird Cage Perches – Pack of 2 due to existing discount. Subject to availability. Omlet ltd. reserves the right to withdraw the offer at any point. Offer cannot be used on delivery, existing discounts or in conjunction with any other offer.
This entry was posted in Budgies
---